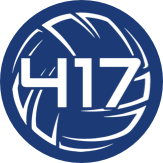 In June 2018, John Hartley and 417 Youth Sports purchased the formerly known Net Results club from former owner Kim Seevers.  417 Juniors joined the 417 Baseball Program under the canopy of 417 Youth Sports.
417 Juniors provides athletes with high-level technical skill training and tactical instruction.  Fostered in a positive but disciplined learning environment that develops personal growth. Encouraging a passion for the game of volleyball. Our goal is to provide excellent training, while also helping athletes as they prepare to move on to the next level of play. In the spring of 2020, 417 Juniors officially announced its addition of 417 Juniors Columbia. Now offering even more collegiate coaching interaction with its north division, 417 Juniors now allows athletes to directly work with coaches from NJCAA level all the way through the NCAA DI level. 
John & Julie Hartley - 417 Youth Sports Owners, L.L.C.
John has been involved in the Springfield Area Baseball scene since the 1960's. Raised through the Kiwanis Park Board system and part of the Central HS 1974 Quarterfinal team, Poppa Hart began coaching baseball in 1979 and has worked for Kickapoo Legion, Willard High School and Legion, College of the Ozarks, the Midwest Nationals and now 417 Youth Sports. Along the way, John was inducted into the Missouri High School Baseball Coaches Association Hall of Fame in 1996, the Midwest Nationals Hall of Fame as Head Coach of the 2005 Premier Nationals Championship team and as the 1st Inductee into the Willard Legends of Baseball. John was inducted into the Missouri State Sports Hall of Fame in 2021. Julie also comes with Athletic History by spending 12 years as the Assistant Athletic Director at Willard High School.